As if the Irvine community needed more reasons to visit the Irvine Spectrum, the well-known brand Bristol Farms will be launching a massive new food hall experience, featuring a full-service pizzeria and a half dozen other fast-casual establishments.
Set to open on Thursday, March 17, the Bristol Farms Newfound Market location at the Irvine Spectrum will serve as both a food hall and grocery concept that is designed to cater to an evening out with friends, as well as a great place to source fresh produce from local vendors.
With more than four decades of experience in the grocery space, Adam Caldecott, CEO of Bristol Farms, emphasized that providing guests with a variety of choices has always been a key strategy in Bristol Farms' success.
"This year marks our 40th anniversary and Bristol Farms Newfound Market showcases the many innovations we will roll out to the company. With each store we open, we strive to improve and better serve a wide variety of guests who share a desire for flavor, quality, and convenience," Caldecott said. "So much of what we do is driven by a genuine passion for good food. Our Irvine location will bring together all the local, artisanal, and seasonal items you've come to expect from Bristol Farms. Plus, we've created seven special food venues to entice and excite Irvine Spectrum Center visitors and the surrounding communities. If you're someone who loves to cook, entertain, or are a passionate foodie, we invite you to come and explore Bristol Farms Newfound Market."
While Bristol Farms has maintained a reputation of being an excellent grocer, the Irvine location will incorporate new culinary technology, including a new sushi robot.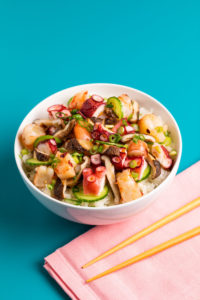 "Bristol Farms has a special place in the Southern California food landscape, and we are building upon that history," Dan Evon, VP of Culinary and General Manager of Bristol Farms Newfound Market said. "For example, Chef Yoshi created the first authentic sushi program in a California grocery store in 1984. Today, we have our 'sushi robot' in PIKAPIKA and are offering traditional favorites as well as modern takes on poké bowls and sushi. Throughout our deli, hot and cold food bars, elevated food hall, and restaurant, we've focused on creating flavorful and memorable dishes that will bring the Bristol Farms experience to life."
In addition to PIKAPIKA, guests can look forward to Horton's Hot Chicken, an artisan fried chicken shop, serving up a black-tea brined Nashville Hot Fried Chicken Sandwich, and a Korean Fried Chicken Sandwich with kimchi aioli. Other venues include Rooted Plant-Based Plates, Swell Seafood and Goodgreens, which is a BYO bowl establishment.
Not to be overlooked is Viaggio Pizzeria, a full-service pizzeria well-known for using Carinspring Mills Edison & Glacier Peak stone-milled flours, which is fermented in house for at least 36-hours.
Advertising disclosure: We may receive compensation for some of the links in our stories. Thank you for supporting Irvine Weekly and our advertisers.