At Chocolate Bash, an Orange County-based creperie, decadence comes in the form of sushi roll-style crepe desserts draped in curtains of imported Belgium chocolate.
With a four-tiered pancake dish layered with sliced fruit and Belgium chocolate sauce, aptly known as the Bash Burger, it's easy to see how Chocolate Bash is indulgently showcasing its namesake in Irvine.
Recently opened at the Irvine Spectrum, Chocolate Bash, one of the few purveyors of decorative European-style crepes in Orange County, has now opened more than a half-dozen locations across Orange County and Los Angeles since 2015.
The experience at Chocolate Bash begins with a three-step process in which guests select the choice of pastry – crepe, waffle or pancake – and sets of toppings ranging from pistachios imported from Italy to special European chocolate.
With its first location arriving in Newport Beach's Balboa Island in 2015, Rasha Albasha, owner and creator of Chocolate Bash, and her husband Amer Dukhan, have created a small franchise operation with the Irvine Spectrum location becoming the newest in the fleet.
In an interview with Irvine Weekly, Dukhan, who resides in Irvine, explained the arrival of Chocolate Bash at the Irvine Spectrum was a long time coming, due to the fact that the family had desired the location for some time.
Dukhan added that the location inside the Irvine Spectrum is temporary, but said the goal is to maintain a local presence while expanding franchise opportunities.
"We kept our eyes on the Spectrum for a while now. It's not going to be easy to get a spot here, just considering how popular everything is," he said. "Unfortunately, this spot is temporary – the end of this year – there's another company that's taking the location, but so far the management likes what we are doing."
Speaking outside of the Irvine Spectrum location on Monday, Nov. 16, Dukhan explained that his wife Rasha Albasha is responsible for the entirety of the Orange County-based concept, creating every aspect of the menu from the decorative crepe dishes, to the Turkish coffee recipes.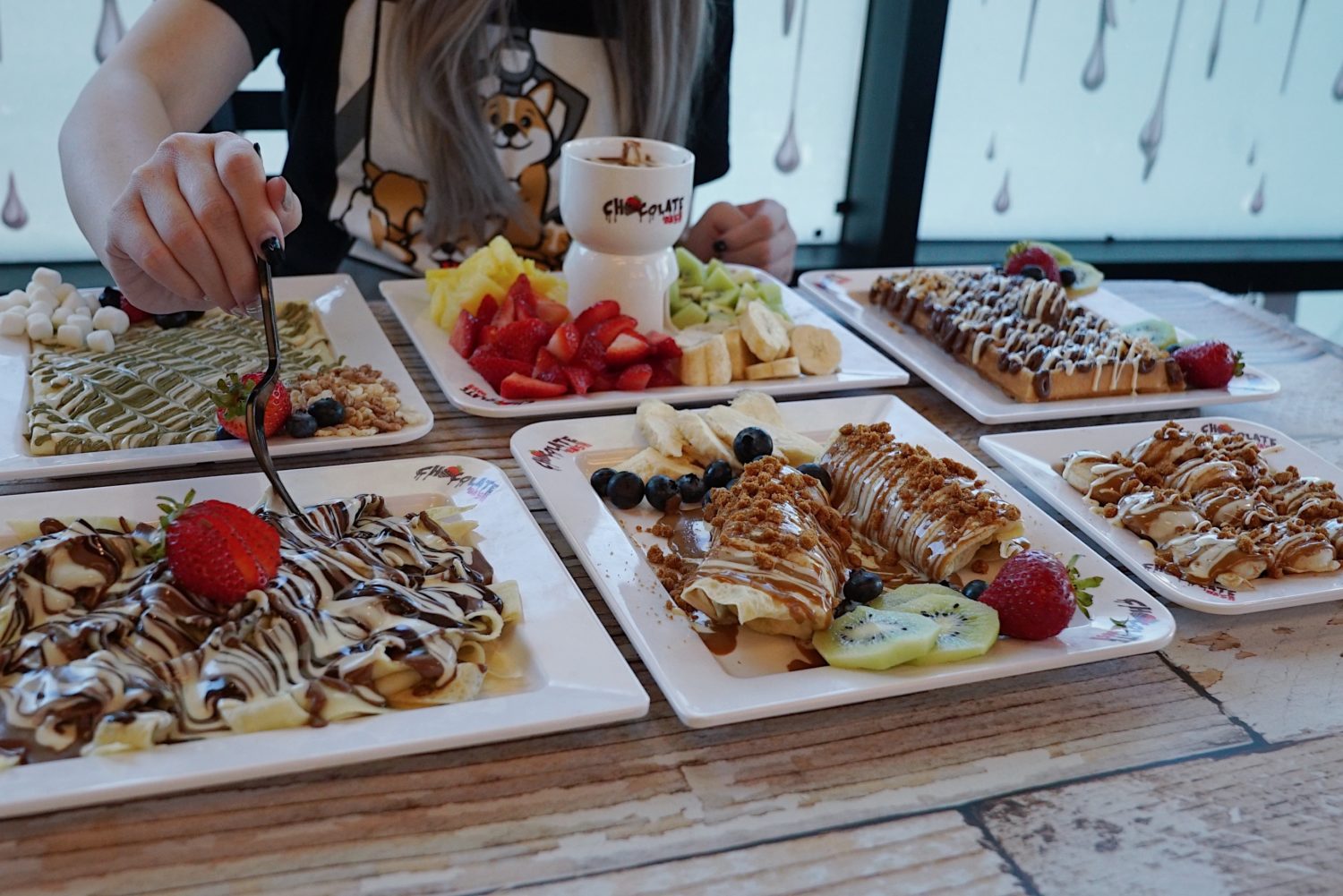 For the husband and wife team, the modest dessert shop was founded on the concept of uniqueness and variety. Even the imported items used by Chocolate Bash are specifically tailored from recipes developed by Albasha.
A few years ago, Dukham explained that the idea of importing food from outside of the country would be a way to bring a unique European flair while providing high-quality ingredients.
For example, the pistachios used are imported from Italy as both a way to set themselves apart, and for quality control.
"If you're providing the same pistachios available on the market, you're not doing anything. The concept of Chocolate Bash is to be unique, that's why we went to Italy. When we got this pistachio spread, it's pure – there's no flavor added." he said. "It's a little bit expensive, but it's really unique and people can really feel the difference between what's available on the market."
Functioning at a culinary crossroads between Europe and the Middle East, Chocolate Bash is paying homage to European desserts and is clearly satisfying the Southern California sweet tooth.
"We wanted to do something different from the market. There are lots of burger places, shawarma places – lots of them – but there's no dessert," Dukhan says. "The concept is a mix between the Middle East and Europe, so we try to get the best from here and there."
Still, Dukhan said with a heavy interest in the franchise opportunities, he remains extremely selective. However, as a pair of entrepreneurs in Irvine, Dukhan and his wife remain open to the possibilities of nationwide and international growth for Chocolate Bash.
In fact, Dukhan said he looks to corporations like Dunkin Donuts, Starbucks Coffee and McDonald's as examples of shining examples of successful franchise models that he believes the team can emulate.
When asked if he ever thought of Chocolate Bash proliferating by the dozens, like Starbucks locations, Dukhan quickly responded.
"All the time," he said. "We are keeping our eyes open – McDonald's, Dunkin Donuts – all of those. Just to learn from them – because they are still small businesses."
Chocolate Bash is located at 756 Spectrum Center Dr, Irvine
Advertising disclosure: We may receive compensation for some of the links in our stories. Thank you for supporting Irvine Weekly and our advertisers.