Irvine serves as the destination for two restaurants that have earned highly-coveted acknowledgements from the well-respected, culinary publication, The Michelin Guide.
By placing an attention to detail on every aspect of dining, HiroNori Craft Ramen and Ootoro Sushi, a pair of neighboring establishments in Irvine's Trade Shopping Center, have silently gained Michelin Guide notoriety.
With high marks in ambiance, affordability and quite literally, "good food," according to the parameters of the Michelin Guide, it's easy to see why both have glowing reputations locally in Irvine.
Fumi Nagatsuka, manager of HiroNori Craft Ramen, said HiroNori received the Michelin Guide's Bib Gourmand distinction in 2019.
The Bib Gourmand is awarded to restaurants offering "good quality, good value cooking," according to the Michelin Guide website.
"We won the category for under $40, casual dining, ambiance, service and food. We never thought we would be classified under the Michelin Guide's Bib Gourmand classification, so we were very surprised about that," Nagatsuka explained in an interview with Irvine Weekly.
For some background, Michelin Guide inspectors are trained to objectively evaluate dishes, based on five-core categories of dining, known as, "The Five Criteria — quality of the ingredients used, mastery of flavor and cooking techniques, the personality of the chef in his cuisine, value for money and consistency between visits."
In addition to the Bib Gourmand, HiroNori Ramen was also recognized as a, "quite comfortable, simple restaurant."
Ootoro, a recipient of the The Michelin Plate: Good cooking distinction, and rated a mark above HiroNori as a "Comfortable Restaurant."
For those considering, the Michelin Guide offers a few brisk sentences about all the feels that Ootoro brings:
"Categorized by fish type, the menu makes it easy to pick and choose from the different families, but relinquish the reins and surrender to the omakase of sensational nigiri. The chefs treat you with great care and will advise when to dab soy sauce on their creations. Live abalone, trios of tuna, duos of salmon (one torched and the other garnished with kombu), seared shima aji and eel drizzled with unagi sauce plus sesame seeds—it's all quite enticing. A5 Wagyu followed by a cup of clam miso soup is the last hurrah and delivers a satisfying finale."
Yet, considering the negative impacts COVID-19 has created for the restaurant industry in Orange County, much is the same for Nagatsuka in Irvine.
Coming off upper echelon culinary acknowledgments in 2019, Nagatsuka said the 2020 COVID-19 pandemic has presented many difficulties, but his team continues to strategize.
Now, due to state-mandated regional lockdown restrictions, HiroNori, which has locations in Long Beach, Pasadena, and San Diego, has been forced to adapt to a shifting landscape.
"It was a dramatic transition, so we converted to takeout only, and it was kind of hard because of customers were scared because of COVID," he explained. "When we opened up the outdoor seating, it was very good business, I guess people were tired of siting at home, he said. But, now that we have the second stay at home, it's all back to takeout."
As Orange County restaurant owners cry foul over California Governor Gavin Newsom's state-mandated regional lockdowns, some have chosen to ignore public health advice to discontinue outdoor dining. 
Nagatsuka says he chose to comply with orders, because he fears the City of Irvine could revoke his outdoor dining permit.
"The permit that we have is with the city of Irvine, and that permit is easily revoked by the landlord as well, and they can revoke that any time with us, so that's why we're following [the guidelines]," he said. 
By utilizing the impeccable attention to detail HiroNori wanted to maintain the same quality of service for their to-go format. Nagatsuka said everything from to-go containers, to the cooking time for the noodles has been impacted in this new format.
"We bought different packaging, to better accommodate the togo experience, wider bowls, better containers," he explained. "Cooking time for noodles for people getting it delivered to their home, or being picked up — they time it to go, so it will be perfectly cooked."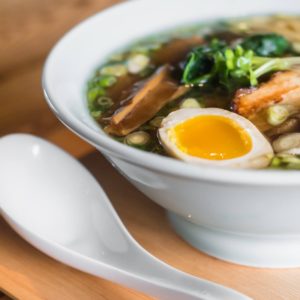 Despite some successful strategies that have helped HiroNori continue their Michelin Guide rated service in Irvine, Nagatsuka said the company has needed to reduce staff, due to the decline in customers.
"It's been very hard, we've had to lay off like pretty much like 50 percent of our staff," he said. "We were able to get some back, but some are still scared of COVID, so like 25 percent of the staff is still scared to come back."
There is still hope, Nagatsuka added.
"Because we maintain that same quality of our food, with out ramen, rice bowls, and we still have loyal customers that keep coming back, we are very lucky and fortunate, while some other businesses are not," he said. "Our primary focus is our food and service, and we strive really hard on that."
As daily COVID-19 cases continue to decline in Orange County, more businesses have been able to resume outdoor activities once again.
On Monday, Feb. 8, HiroNori debuted a second Irvine location in Irvine's Sand Canyon neighborhood.
If you go, Nagatsuka recommends a HiroNori staple, which he says is the tonkasu ramen, which features a creamy pork broth.
HiroNori Craft Ramen has two locations in Irvine:
Trade Food Hall: 2222 Michelson Dr #234, Irvine, CA 92612 
 Sand Canyon: 6626 Irvine Center Dr, Irvine, CA 92619
Ootoro Sushi
2222 Michelson Dr #246, Irvine, CA 92612